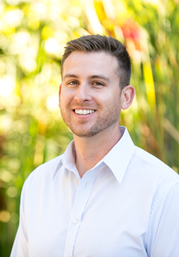 JB Communications is pleased to announce that Tyler Durling has joined the team as Director of Online Marketing.
"Tyler has worked with us on client websites for several years now, and is an excellent addition to our growing and skilled team," said John Beilharz, PhD founder of JB Communications. "He brings a great depth of knowledge and a wealth of experience in our industry that will serve our clients for years to come. Tyler's background is extensive in digital marketing and he will be instrumental in expanding our presence as we go forward."
Being in digital marketing and web design for more than eight years, Tyler has helped local businesses enhance their online presence and marketing strategy to generate measurable returns in multiple industries. Receiving his degree in Graphic Design from CalPoly San Luis Obispo, he has since executed hundreds of digital marketing campaigns in online paid advertising, social media and search engine optimization.
"I am excited to have this opportunity to help grow JB Communications. I look forward to working with the  team to expand our services both geographically and in our areas of expertise," said Tyler.
To learn more about JB Communications visit our website at jbadvertising.com or call (707) 495-3606.