Case Studies & Success Stories
Ghilotti Construction Company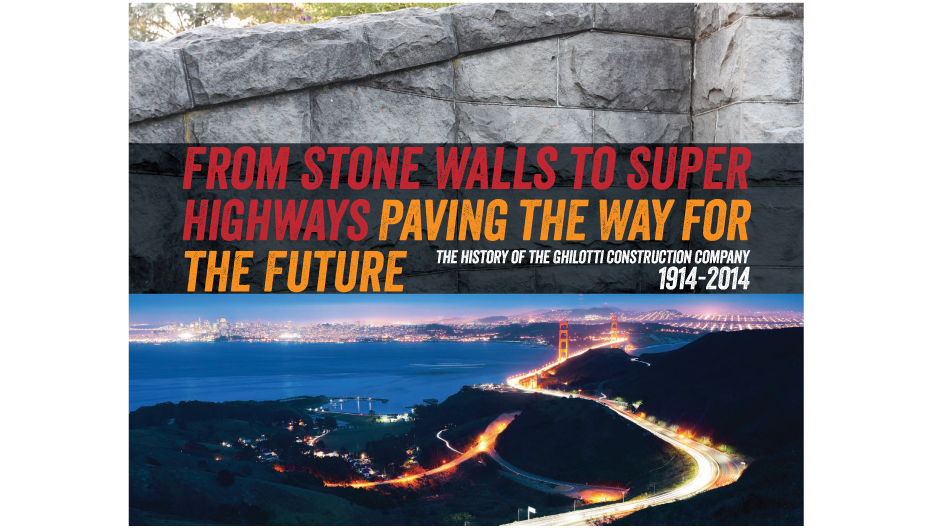 Graphic Design
Direct Marketing & Advertising
Public Relations
Broadcast Advertising
How to Celebrate 100 Years of Business
Family owned and operated since 1914, Ghilotti Construction Company (GCC) has 100+ years of engineering experience and a family tradition of hard work and dependability. The story of Ghilotti Construction Company is the story of the American Dream. A stone mason by trade, their founding grandfather, James Ghilotti, left his native Italy to come seeking his fortune in California. Transporting stones all over the north bay by horse and cart, his back-breaking hard work and business philosophy paid off as his company grew from small paving jobs to building bridges and highways.
Challenges
Ghilotti Construction is one of the most visible companies in northern California. As an industry leader, GCC holds a broad spectrum of skilled specialization that extends to both the public and private sectors. GCC has developed a depth of expertise in performing various private and commercial works – from commercial sites and subdivisions to wineries to major business campus expansions. When a company like Ghilotti Construction turns 100, what does that celebration look like? GCC approached JBCommunication with the objective of developing a significant yearlong celebration/marketing plan.
Solutions
We developed a comprehensive marketing plan that included; public relations both digital and direct. We met with editors of magazines and newspapers throughout the bay area to pitch the story. Social media was outlined to include a one-year content strategy regarding aspects of the 100 years. Advertising included broadcast with a television commercial that not only focused on the 100 years but presented a clever way of communicating how to differentiate GCC from other similar companies. The commercial aired periodically throughout the bay area and during the SF 49er playoffs. And radio commercials were choreographed to play on San Francisco Giants station as well as other bay area stations. Print advertising included key testimonials from high profile GCC clients located throughout northern California. This included; Sutter hospital, SF 49er stadium, Buck Foundation and many others. We created and publicized a total of 12 testimonials, one for each month of the year. We also took on a project that required nine months to create; a booklet depicting the complete history of Ghilotti family. This 85-page tabletop keepsake was distributed to family, employees, clients, community dignitaries and all 600 people who attended the 100th anniversary event.
Results
The entire 100th anniversary campaign was a huge success. It was demonstrated in the media and to the general public about how everyone enjoyed the campaign and ultimately, the Ghilotti family was very pleased to get so much attention. This campaign provided a great kick off for the DG Foundation in honor of the owner, Dick Ghilotti's son who passed away in a tragic car accident just after graduating from college.