Case Studies & Success Stories
Northern California Medical Associates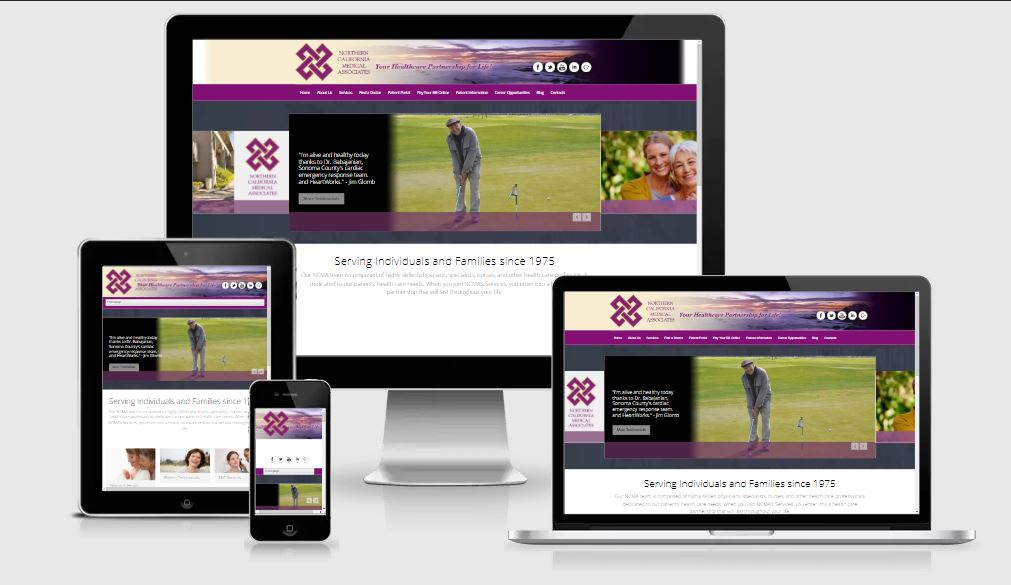 Services Provided:
Search Engine Optimization
Direct Marketing
Taking Medical Professionals to a Whole New Level
Since 1975 Northern California Medical Associates (NCMA) has worked to create a model featuring an independent, multi-specialist group practice that allows their patients access to a sweeping range of medical and surgical services, diagnostic testing and preventive programs. This organization is the largest independent medical group in Sonoma County with 26 offices and more than 250 employees.  Their revenues have grown from $4M 20 years ago to $52M today.
Challenges
For 20 years JB Communications has played an integral part in first creating and then maintaining a solid brand name for NCMA. Not only do we have the challenge of managing the overall NCMA brand as a company but also a broad range of healthcare practices and individual providers who work together under one management umbrella. Working with NCMA has kept us nimble as a marketing agency as we are constantly changing our strategies and goals for branding their collective product to keep it fresh and at the forefront of healthcare in Northern California.
Our ongoing challenges include; developing a practical marketing plan for paper and online purposes, keeping the website fresh and appealing while growing a comprehensive social media management plan in an ever-changing online environment. The online presence of each individual healthcare provider also requires repackaging and branding right along with the associates' management system as part of JBCommunication's comprehensive reputation management program for medical providers.
Solutions
Working alongside the leaders at NCMA we were able to outline a plan for branding the organization, from there we went on to develop and implement a comprehensive marketing plan that remains flexible and responsive to this day.
JBC has provided NCMA with a highly diversified set of dynamic marketing strategies, and continues to advise this unique group of medical providers as the corporation continues to grow and expand. Over the years we have maintained a strategic public relations plan that speaks to the services they offer. Our advertising and image management efforts are designed to support a constant stream of physician referrals and enhanced patient relations. We also provide expert ongoing website development and maintenance services, while keeping an eye on the ever-changing social media landscape to help keep their message visible, consistent and accessible.
In addition to developing a customized website that features the unique expertise of each specialty group and healthcare provider, we also developed social media pages including; Facebook, Google Plus, LinkedIn, Yelp YouTube and Twitter. Both the website content and social media program we developed is an ongoing effort that gives this organization an exceptional marketing edge. As with other medical marketing clients we assumed management for all of the doctor's individual online profiles on a variety of sites to bring them up-to-speed and to keep the NCMA message consistent as part of our highly sophisticated reputation management program for physicians and surgeons.
Results
For 20 years NCMA has relied on JBC for continued marketing success. With a comprehensive and flexible PR program, cutting edge direct and online advertising we have worked to successfully coordinate all aspects of NCMA's marketing strategies for many years. NCMA now enjoys a very active online presence that speaks to their unique organization and helps to keep them well ahead of the competition. Our reputation management program has proven a success for this group as we continue to propel all medical staff profiles to above Industry standard ratings.
What NCMA Has to Say About JBCommunications
I have had the pleasure of working with JB Communications for more than 17 years. I find their marketing services to be very professional and creative, and it is a pleasure to work with them. They keep up to date with the latest marketing communications methods, and are true experts in their field. They are trailblazers within the medical marketing field, and it has been our extreme pleasure working with them throughout the years. NCMA has complete confidence in JB Communications' ability to help support our continuing success, and we highly recommend them to any business that is in need of quality marketing services.